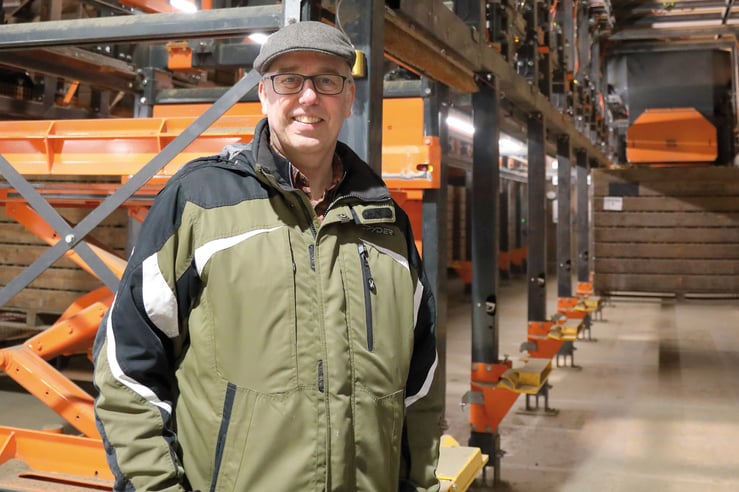 The content of this blog is the foreword from the Editor in Chief, published in PotatoWorld magazine 2022/02.
With the installation of a robot-controlled box warehouse at the farm of seed potato grower Gilbert van Campen, I believe a new phase has arrived in the grading of seed potatoes. Growers can now fill the warehouse with boxes of field crop produce, and a few hours later, the electronic grading installation has graded, inspected and put all the potatoes back in their boxes. This fits perfectly in this modern age where automation reigns supreme.
With many applications, however, I've got the idea that, while all the ingredients are on the table, they have not yet been prepared. Sometimes the starter has already been served, such as at Van Campen. Robotisation has now made its appearance at his farm, simply because it fits the quality experience in the business. Robotisation also fits seamlessly in the planning for the year and can be combined well in the farm strategy. The benefit of such a large investment can then be quickly calculated. However, it should also be noted that not all collected data has a direct commercial value in the chain. Grading to an accuracy of 2 millimetres and knowing exactly how many potatoes you're going to deliver are examples of already available options, for which nobody is yet willing to pay.
Looking to the future, where laws and regulations increasingly determine the field of activity of the potato chain, sharing data and information will become even more important. It's only too easy to say that the growers have to collect this information, store it and then preferably offer it to their customers and the government for free. I see it as the responsibility of the chain to start an open discussion about this topic and to plan concrete actions, so that the revenue model of the entire chain will improve and the players become stronger as a result. Then there will soon be a delicious dish on the table, which will leave no one with a hangover the next day.
Jaap Delleman (Director / Editor in chief at PotatoWorld magazine)

Want to read more about the complete potato chain?
Our Potato handbook is a global potato university in 1 book!
Buy your copy today and get a one-year free subscription to PotatoWorld magazine.