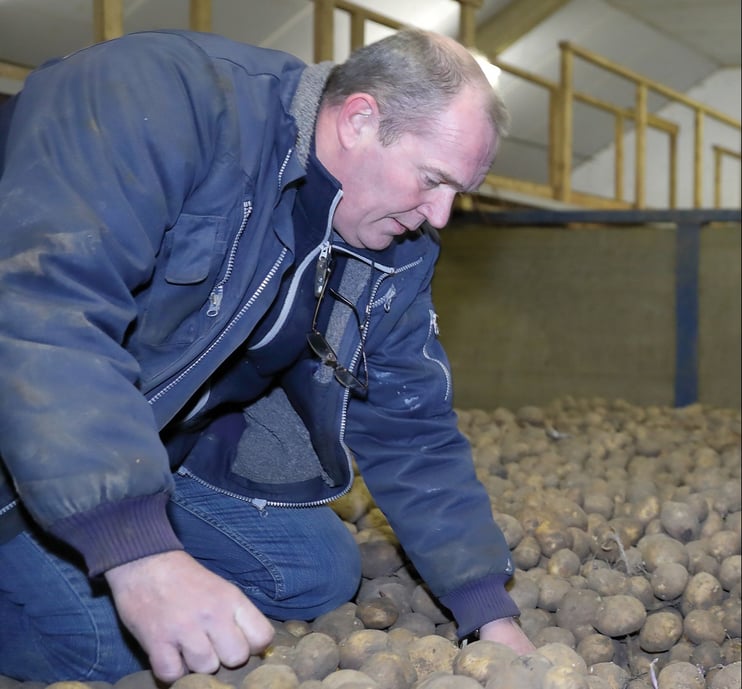 For this series, PotatoWorld's Jaap Delleman and Leo Hanse have written up stories of European growers storing potatoes without Chlorpropham.
In Europe, the European Commission has decided that potato growers are no longer allowed to use Chlorpropham in the storage of potatoes. This ban on the product used for decades to store ware and starch potatoes is a real game changer in the European potato sector. Innovative Dutch growers are sharing their initial experiences with the new agents that best suit the variety, cultivation purpose, available finances and storage conditions.
This week: Martin de Ruiter from Strijen (Pictured above)
'My customers have received top quality French-fry potatoes', says Martin de Ruiter with satisfaction. For him, Biox-M is therefore definitely the sprout inhibiting product to use.
Normally, De Ruiter delivers his Fontane chip potatoes before the middle of May, because he stores them in a somewhat older storehouse with outside air ventilation in which they usually do not keep for much longer. Two thirds of the total 300 tons are usually sold at a free market price, one third under contract. However, due to the corona crisis, marketing and processing around the usual time of sales has almost come to a complete standstill. 'My current buyer, Select Potato from the village of 's Heer Abtskerke said "try to keep them as long as possible, we might find a customer in a few months' time".' And indeed, at the beginning of July they went, the 100 tons of the contract potatoes went to a French-fry manufacturer, the remaining almost 200 tons went to the flakes and starch industry for 2.5 euros per 100 kilograms. On top of that, we'll get the promised government compensation of about 5 euros per 100 kilograms.
MH as field treatment
The customers have still received top quality French-fry potatoes, De Ruiter assures us. The fact that this was possible from his relatively outdated storehouse, also pleasantly surprised him. Yet he's able to identify a number of logical reasons for this positive end result. First of all, the potato grower was able to harvest and store the Fontanes on time and under optimum conditions in the autumn of 2019. 'The tubers were fully matured in the last week of September. The problem at that time, however, was the dry conditions in the field. But I decided to harvest them anyway. Coincidence or not, the night before the contractor came, we had the first rain in two months. A very nice shower of 10 millimetres. Ideal to get 5.4 hectares of Fontane nicely in the storehouse. They'd just had a field application of MH at that time. We could clearly see that it had been a success. It wasn't until the end of January that we saw the first white sprouts on the tubers. You're then talking about a period of almost four months after storage', De Ruiter reacts enthusiastically. And that was the time that he carried out his first in-store treatment with the natural sprout inhibitor, Biox-M.
Already two seasons of experience
Choosing Biox-M was then almost normal. 'I'd already had a positive experience with Biox-M the year before. It was then still a trial in collaboration with Van Iperen, our supplier in Westmaas. The results were highly satisfactory at the time, we gave the Fontane three applications. The first dose, at the end of December, was 60 millimetres per ton, followed three weeks later by a second application of 30 millimetres per ton and in mid-February a third one of 30 millimetres per ton. This was also based on a treatment with MH, which is really necessary to keep the sprouting controllable. De Ruiter could have used Chlor-IPC again this year but, in view of the ban on its use next season, he thought it wiser not to use it at all. 'I hope that by doing this I can ensure that the residue level of the Chlorpropham in the storehouse is as low as possible.'
Want to keep reading about this grower and other growers' experience with replacing Chlorpropham?
Download the full PotatoWorld magazine article on potato storage without Chlorpropham for free: