The content of this blog originates from the article on the Potato Variety Days 2021 published in PotatoWorld magazine 2022/01.
By Zindziwe Janse, Jaap Delleman and Leo Hanse.
During the Potato Variety Days 2021, we asked participating breeding companies about the key focus of their breeders in their search for new varieties. In this blog post you may read the answer given by Matthijs Kloek, Production and Logistics Manager at Den Hartigh, Emmeloord (NL):
'The lines are short and we set the direction together'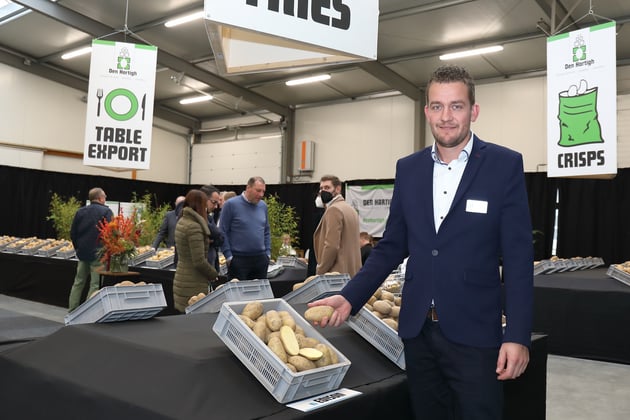 For a seed potato trading company such as Den Hartigh, the focus is largely on export. According to Manager Matthijs Kloek, this is mainly about maintaining business connections, making new ones, visiting customers, carrying out trial field assessments and developing markets. However, the corona pandemic has not made it easy to achieve these goals in recent times.
Direct contact and live meetings are crucial according to Kloek when it comes to selling seed potatoes and promoting new varieties. You'll then get a much better exchange of each other's requirements, ideas and a better feeling about the market in the various countries. Since this was hardly possible due to the corona pandemic and then only by phone or online, it has taken a toll on trade, he said. 'The trade in existing varieties went well, no extra explanation was needed, but the introduction of new varieties has been difficult. The customers miss your presence in the trial field and in the exchange of knowledge and experience gained elsewhere. This doesn't make it easy to search for the right sales channels, he says. 'There's been some compensation by intensifying the marketing closer to home, such as paying more attention to placing varieties with potato processors and other sales markets in North-West Europe. After all, they were a little easier to approach. When you ask about the focus in the breeding work itself, so what do customers want to see in their varieties, this can be summarised as everything that's related to the loss of chemicals in the coming years.
According to Kloek, it's the well-known story of the restriction of chemicals by laws and regulations in many countries. In potato cultivation, this has consequences for the control of Phytophthora and the prevention of viruses, the Manager points out. 'An answer to this is the cultivation of resistant varieties, and it's up to us to achieve this. The situation at the moment is that 70 percent of our seedlings are already crossed in with one or more Phytophthora gene. Whether this is the right direction and where we should go with our varieties is something we'll decide within our company. We're not a large company, the lines are short and we set the direction together. That means with the breeders, with commerce and the production departments, in short the whole team. If I may summarise the most important objectives, for countries close-by these are Phytophthora and virus resistance and, for countries far away, processing capacity and quality. This last requirement has changed slightly in recent years. Where previously there was only a demand for bulk varieties for consumption, which means big tubers with high yields, there's now also a preference for processing quality. A good example is the Edison variety. This is one of those varieties that produce big tubers with French-fry quality. In addition, the Edison is strong on drought and that makes it highly suitable for more distant countries with a hot climate. And, as we've already mentioned, the Edison has good virus resistance. This variety can therefore be processed by the French-fry industry nearby, where virus resistance is an advantage, and it can also be processed in more distant countries where drought is an issue for growers. Interest is therefore considerable and this means that we're planning to have 20 hectares of seed potato multiplication in the Netherlands for the 2022 growing season', Kloek can proudly announce.
'Want to keep reading about the Potato Variety Days?
In the run-up to the event we published an e-book that you can download here!