The content of this blog is the Potato World vision column by Dr Frits van Evert, published in PotatoWorld magazine 2021/03.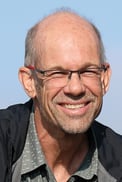 Agricultural mechanisation in the past hundred years has been largely focused on the reduction of human labour. This has been successful, but has led to soil compaction as a result of large, heavy machinery. And a lot of labour is still needed for mechanical weed control and for the spraying of plant protection chemicals.
Robots have taken over the work of people in many sectors of the economy. But the robotisation of agriculture is lagging behind in sectors such as distribution, ports and factories.
There are already agricultural robots for sale. But many growers are reluctant to purchase and use a robot. And rightly so! Because, at the moment it still takes a lot of time and effort to get an agricultural robot to work independently. That already starts before the robot gets to work. Planting potatoes? You have to tell the robot where each row starts and how many rows are planted at the same time. Hoeing? You have to set the hoe to the row distance and then tell the robot how many rows to take in one work passage. Spraying? Is the sprayer 24 or 54 m wide? In fact, you would want a tool attached to the robot that not only communicates what the operating width is via ISOBUS, but also adjusts its route accordingly.
And who monitors the quality of the work when the robot is on the other side of the field? What if a string breaks and one of the rows is not planted? What if the hoe fills up with weeds and starts "stripping"? Who stops the spraying if the wind picks up? The labour saving that can be achieved with agricultural robots is not as high as it could be, because someone still has to keep an eye on everything.
A new EU-funded project 'Robs4Crops' is developing a robotic system that addresses the above shortcomings. I expect that, in four years' time, we'll be able to hoe and spray a number of crops fully automatically, including potatoes.
Dr Frits van Evert, Senior researcher precision agriculture at Wageningen University & Research, project leader of Robs4crops
Want to read more about the potato crop and the potato sector?
Our Potato handbook is a global potato university in 1 book!
Buy your copy today and get a one-year free subscription to PotatoWorld magazine.