The behaviour of potassium (K) in clay soils mainly depends on the clay content and the type of clay mineral.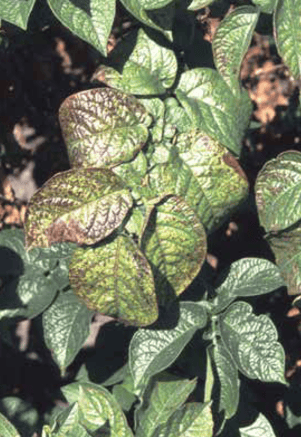 Soils with clay minerals mainly consisting of illite, such as in the Netherlands, supply K through weathering. From soils with clay particles mainly consisting of kaolinite K may easily be leached out. Also in sandy and peaty soils, K is easily leached out. In order to avoid large production losses in such soils, due to leaching out of K in periods of heavy rainfall, sufficient amounts of K must be applied at the time of seed bed preparation, preferably in the form of potash salt 60 (60% K2O) or potassium sulphate.
Fertilisation recommendations based on soil analysis is indicative, but dated. The advised amount appears to be on the low side; too often K-deficiency is observed in both foliage and tuber. In sandy and sandy peat soils, damage due to K-deficiency occurring before mid-July can be prevented to a great extent by topdressing with potassium fertilisers low in chlorine (for example, 150 kg of potassium sulphate per hectare). If additional K is applied after mid-July, the probability that the crop may recover is limited. Foliar fertilisation using 100 kg of sulphate of potash or 40 kg of 60% potassium chloride in 1000 litres of water per ha is more effective in the short term. Foliar fertilisation is not only preferable to prevent K-deficiency in potassium-fixating river clay soils, but also in the case of severe K-deficiency in general.
To minimise the chance of leaf burn, foliar fertilisation should be applied in low concentration. To achieve sufficient impact, application must be repeated several times.
Photo: Close up of advanced K-deficiency.
(By Soil and Crop Improvement Assen, the Netherlands)

Want to read more about Potassium deficiency and potato diseases in general?
Then our Potato diseases book is what you are looking for!
Buy your copy today in our webshop: